Vermont SportsCar Switches On the Nitrocross Group E Series
In 2022, Nitrocross (NRX) launched the inaugural season of the all-electric Group E class, led by the competition debut of the FC1-X rallycross car. Created by First Corner, LLC, in collaboration with QEV Technologies and Nitrocross, the FC1-X delivers the electric equivalent of 1,070 peak horsepower (800 kW) and accelerates from 0-60 in just 1.4 seconds, launching faster off the line than an F1 car.
Just as the legendary Group B cars set the rallycross world ablaze in the 1980s, Nitrocross' Group E class is making another quantum leap. That inspiration, supercharged by Nitrocross' limit-pushing DNA, is showcasing the massive performance potential of electric vehicles unleashed by the fastest rallycross cars ever seen.
The groundbreaking car is the fastest ever seen in the history of rallycross and also features adjustable aerodynamics, regenerative braking, and over thirteen inches of suspension travel.
VSC is expanding its Group E team for the 2023-24 season. Read more HERE
The VSC Group E Team
The Vermont SportsCar Group E Nitrocross Team 2023-24 driver roster consists of established superstar and Nitrocross mastermind Travis Pastrana and fast young talent Conner Martell, the former ARX Lites Champion (2018).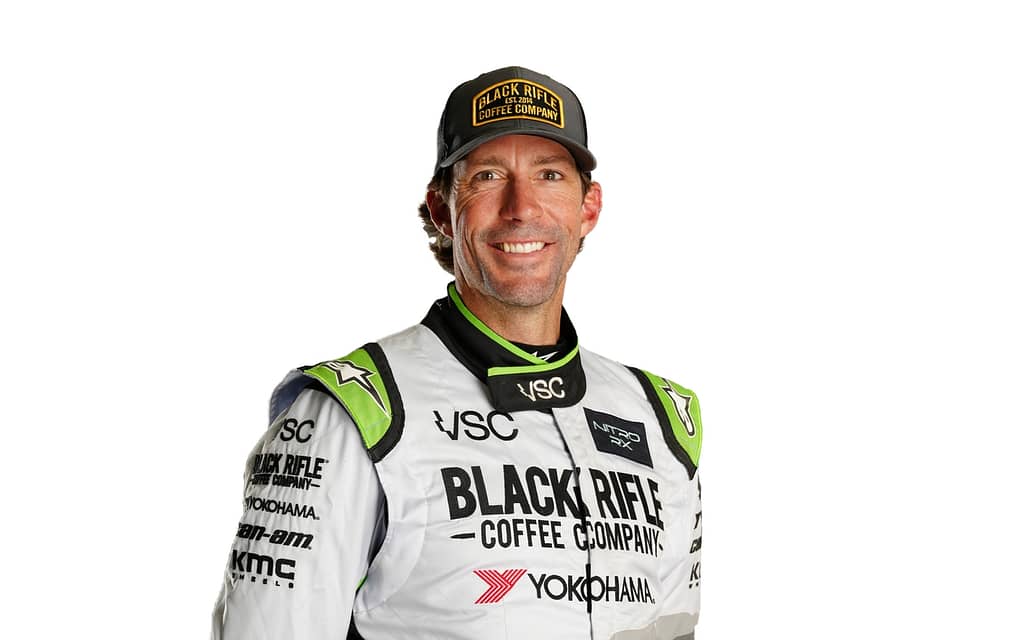 Travis Pastrana
What can we say about Travis Pastrana? His accomplishments are off the charts – from motocross World Freestyle Champion at age 14, to becoming the most decorated competitor in the history of X Games freestyle motocross. He's pretty amazing behind the wheel too, earning six rally championships (2006-2009, 2017, and 2021) since beginning his rallying career with the VSC-run Subaru team in 2004.
Pastrana co-created the Nitro Circus, which has grown to become the biggest and most successful live action sports show of all time. With over 46 million TV viewers in the U.S. and over 750,000 tickets sold worldwide, Nitro Circus has captured the imagination of fans all over the world. He is the founder of Nitrocross, and designs tracks for the global venues that host the Nitrocross series.
Conner Martell
Conner Martell is a rising star in rallycross and is now competing in the all new Nitrocross Group E category. Conner arrived at Group E after earning a Championship win in the LITES category of the Americas Rallycross Championship (ARX), and studied under and raced with the legendary Travis Pastrana.
Martell began his motorsports career on two wheels, but after injuries forced him away from motocross racing, Martell switched to 4-wheels and rallycross racing. Martell has earned five overall victories, nine podiums, and 27 heat race wins in his burgeoning rallycross career thus far.
Additionally, Martell has competed in the Red Bull GRC Lites series, FIA World Rallycross Lites series, the ARA Championship, the Canadian Rally Championship and most recently the F4 Western Championship Series.
Martell continues to serve as a test and development driver for Vermont SportsCar where he plays a crucial role in the team's rally, rallycross and Gymkhana endeavors.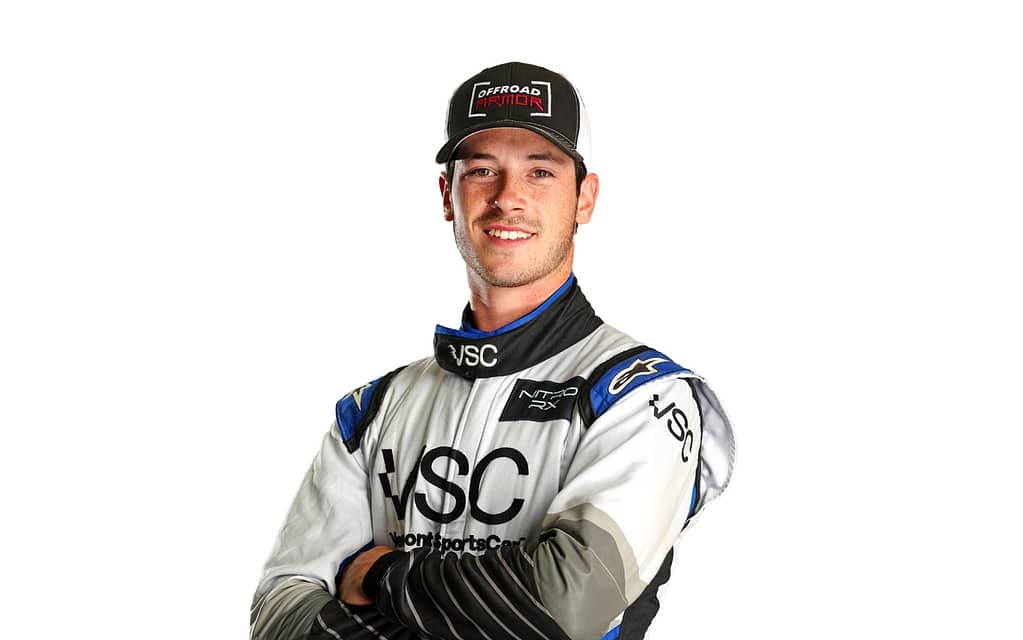 2023-24 Nitrocross Schedule
The 2023 – 24 Nitrocross schedule includes a total of 10 events over a period of 8 months. Kicking off June 16-17, in Oklahoma, the series continues in Utah, Arizona, Southern California, and Alberta, CDN. The series will culminate in the spring of 2024 with a championship event TBA.
2023–24 NITROCROSS (GROUP E) CHAMPIONSHIP SCHEDULE*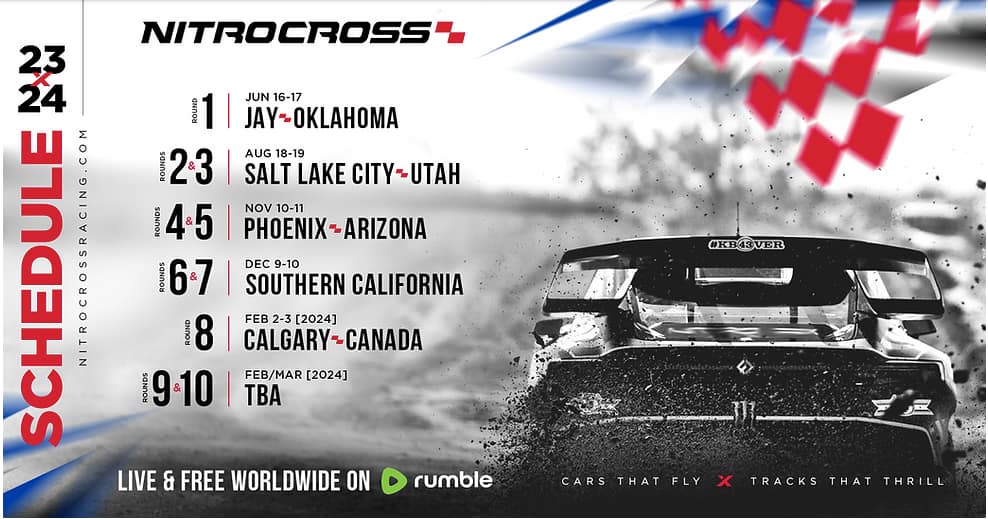 (*Subject to change)

You can view the current schedule at https://www.nitrocrossracing.com/
Sustainability
Electric vehicles are the key to sustainable transportation, to lowering global emissions and reducing air pollution in city centers. And from a motorsports perspective, their extraordinary performance abilities make them some of the most spectacular race cars on earth. Vermont SportsCar is thrilled to be a part of this evolution as we field a team in the upcoming Nitrocross (NRX) Group E series.
Beyond chasing trophies, VSC is playing a seminal role in the expansion and adoption of EV motorsports. We are blazing a trail for other teams to follow and proving by our actions that EV motorsports has a bright and sustainable future.
Partnership Opportunities
For information about partnering with the VSC Group E team, please reach out via the contact us form.
The FC1-X Features:
1,000+ peak horsepower
0 – 60 in 1.5 seconds
Up to 3G acceleration
AWD
Designed for dirt, tarmac and jumps
Motors
Magelec Propulsion
(2) M21H5-D Front Motors
(2) M21H5-D Rear Motors
Max Nm is limited to 1030Nm
Max Kw is limited to 782kw
Max Speed – 12,500 RPM
Inverters
Magelec Propulsion
New SiC Model N40S6 – 99% efficiency
DC Voltage – Operating 100 -900 VDC
DC Over voltage Trip – Over 900 VDC
Motor Current Peak 400 Arms
Inverter Weight – Less than 5 kilo
Battery System
QEV custom battery pack using Newattek battery cells
Max. voltage – 872 V
Capacity – 51Kwh
Max. discharge power – 800+kW
Min. voltage – 672 V
Extremely safe casing in-line with FIA regulations
More than 200 charge cycles
Charging power up to 150kW
Fully charged in less than 25min (100kW charging power)
Charging System
CCS2
DC plug to connect to the car
Steering
Electric power-assisted steering
Cockpit
FIA carbon seats w/6pt harness
Adjustable steering wheel with 4in color screen
Carbon composite dashboard and middle panels
12in color screen with driver info
Body / Aero
Exterior design is fixed for all teams, however official Manufacturer entries may propose and utilize a custom body to match manufacturer OE body.
Wheel / Tire Setup
19x11inch Rotiform wheels // 280-705 R19 custom rallycross tires
Braking System
Standing pedal box with front/rear master cylinders
Hydraulic handbrake
Front brakes: 6-piston calipers with 355mm x 32mm steel brake discs
Rear brakes: 4-piston calipers with 355mm x 32mm steel brake discs
Suspension
Front and rear double wishbone made in high-grade steel
300mm wheel travel
Coilover dampers height adjustable with 230mm of damper travel
3-way adjustable
Adjustable front and rear anti roll bars
Transmission / Sadev
Rear transmission / 3-speed sequential transmission
Hydraulic paddle gear-shifting