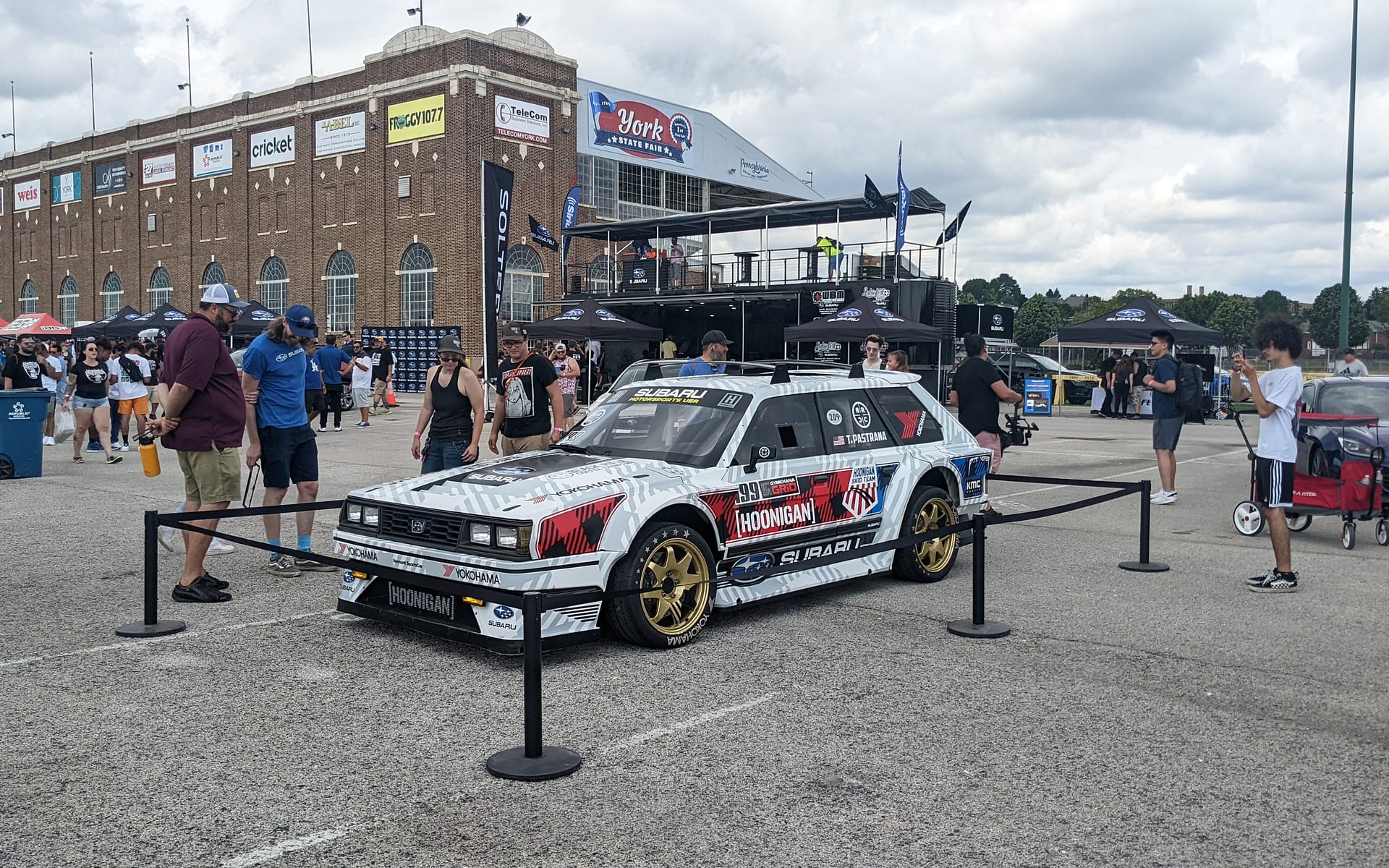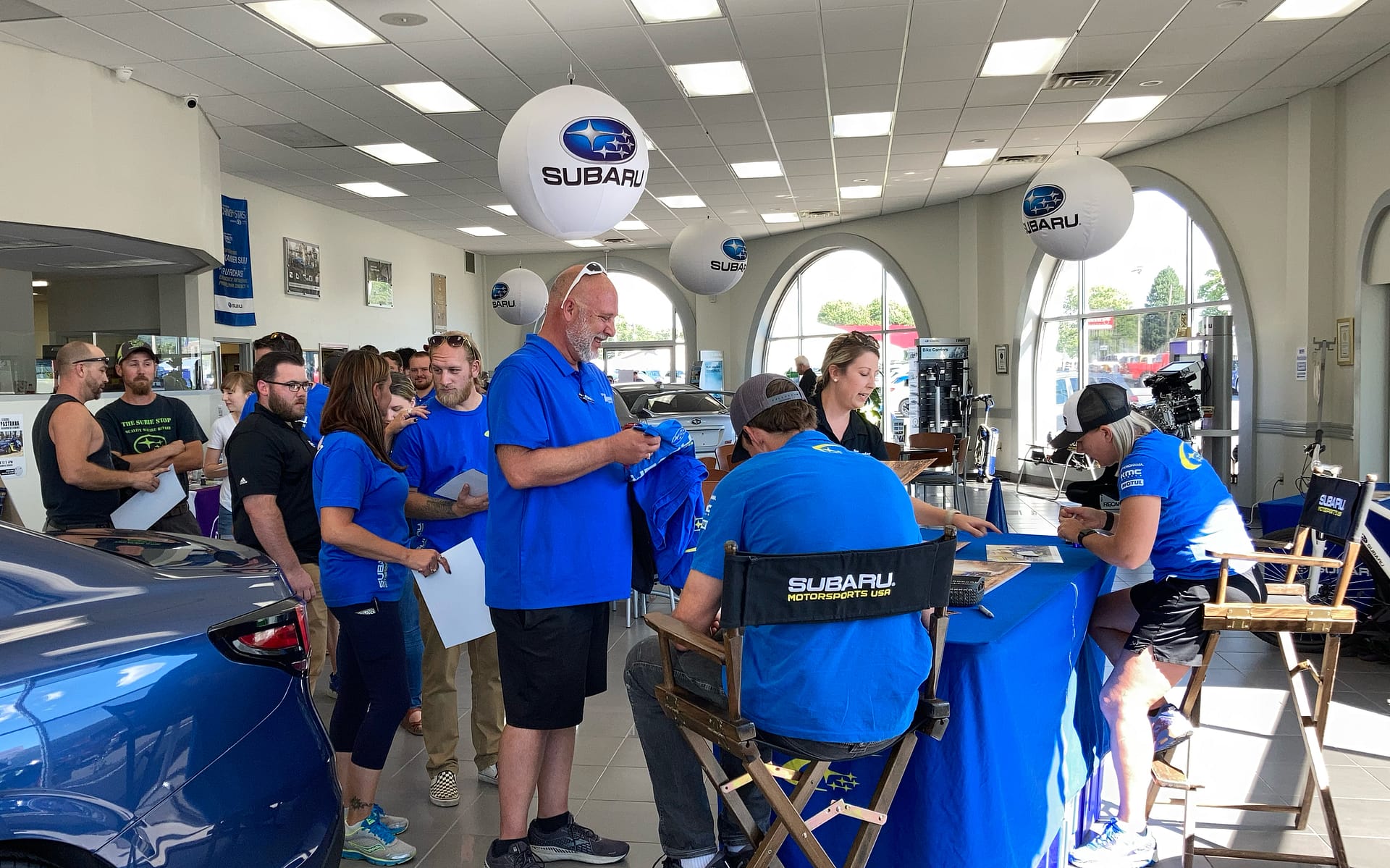 Enhance Events, Generate Leads and Develop Customer Connections
The Subaru Motorsports USA Display Program brings a team car and interactive display to events and venues across the country: from Subaru retailers, car shows and race events, to Subaru sponsored events and festivals. With over 80 event activations and 200+ event days each year, the Subaru Motorsports USA Display Program generates buzz, attracting existing rally fans and creating new ones. The program can be scheduled to visit Subaru retailers and special events nationwide. For more information, including pricing, please contact showcar@vtcar.com
For eligible Subaru retailers, costs are supported by SAF Co-op.
Display Options
There are several ways to bring the excitement of Subaru Motorsports USA to your event:
The Subaru Motorsports USA Experience: Fully-staffed and suitable for weekend or shorter events.
Show Room Display: An unstaffed car display, for longer display periods
Custom Activation: For stand-alone or one-off events. Contact us to dream it up!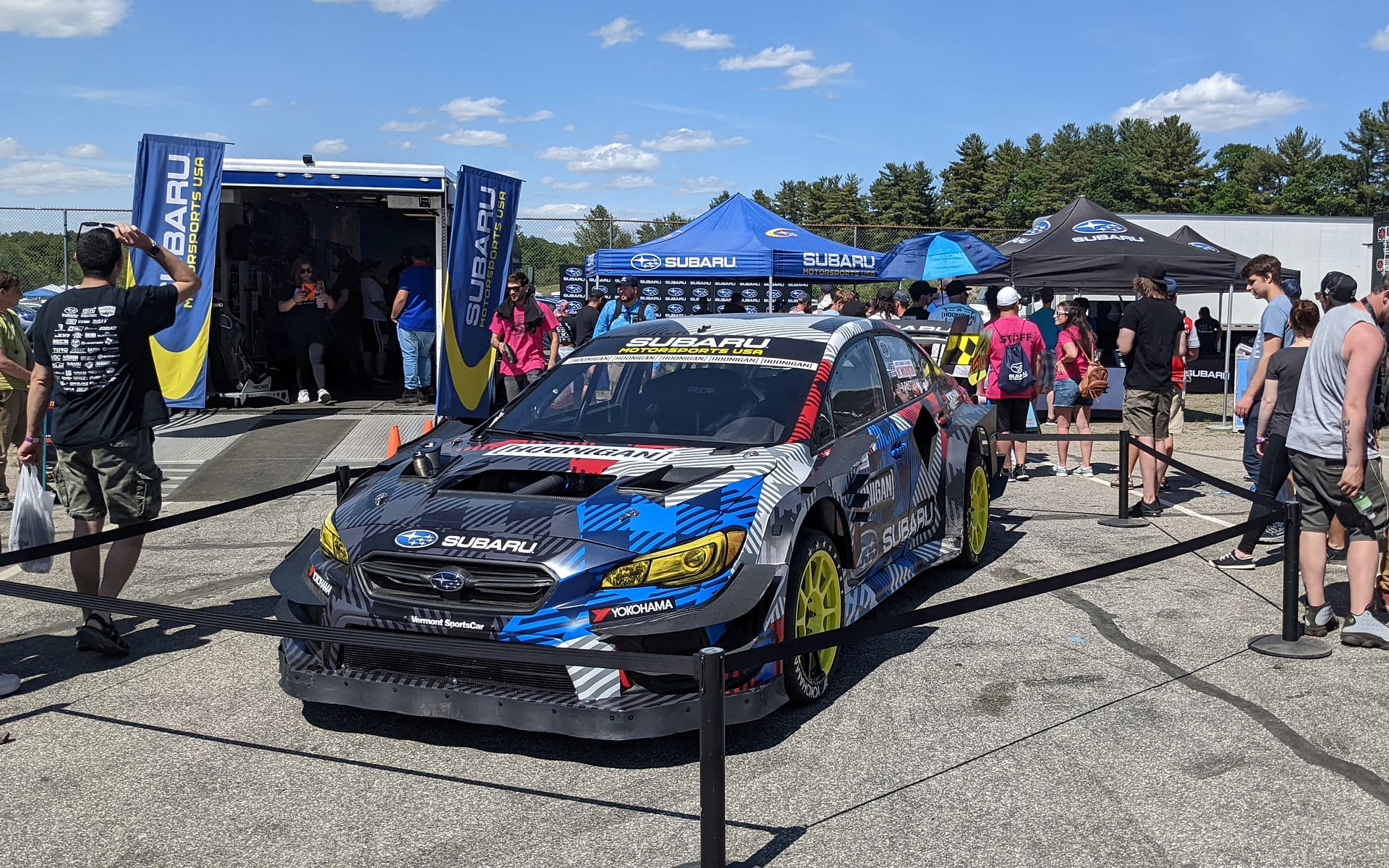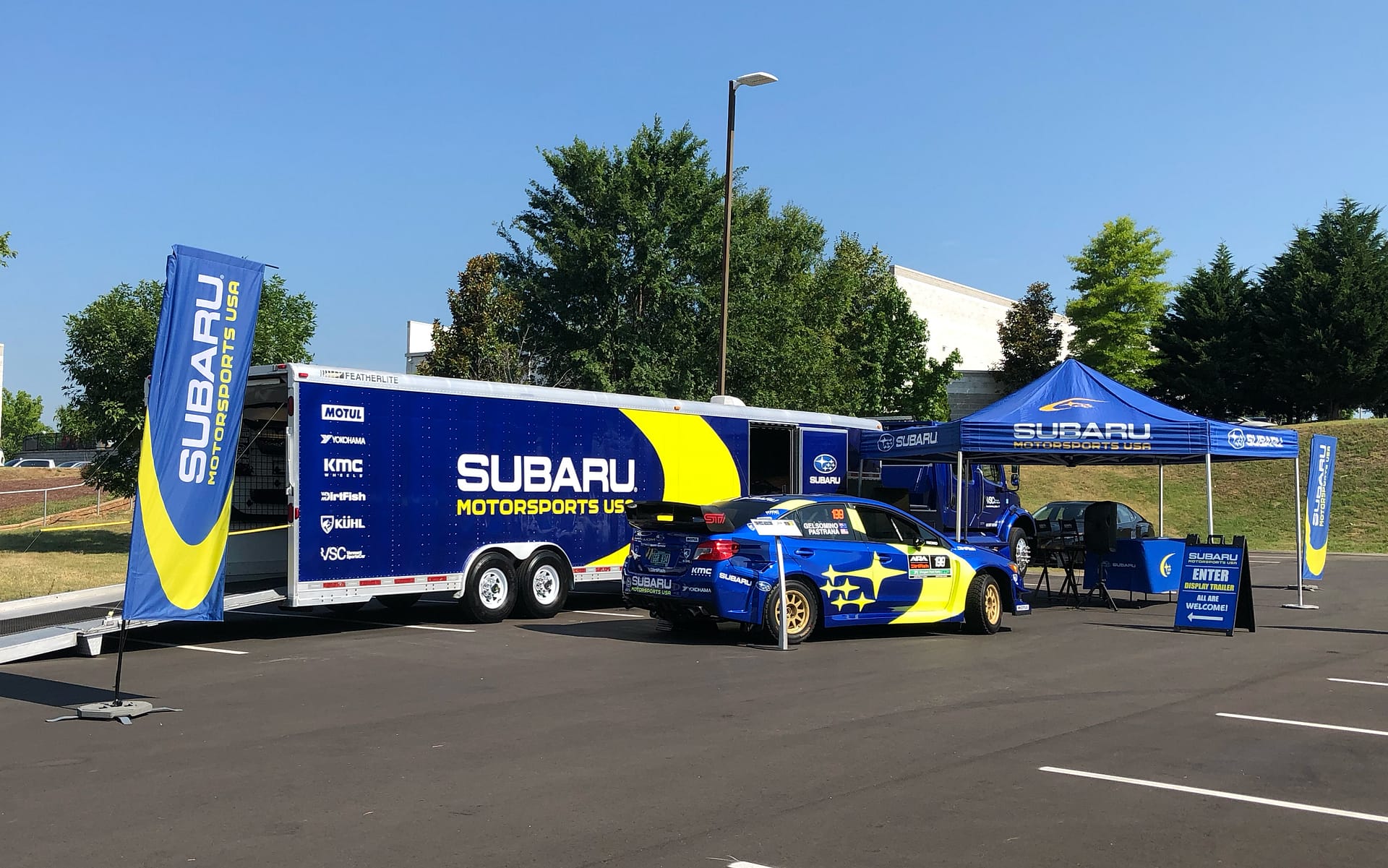 The Subaru Motorsports USA Experience
Our eye-catching, fully branded and customized display can be the centerpiece of your next event. The display attracts a wide range of curious, potential car buyers: motorsports fans, rally fans and performance car enthusiasts. Inside and around our interactive display trailer you'll find team driver profiles, rally and rallycross videos, parts and sponsor displays which serve to educate consumers on the performance side of the Subaru brand. Complementing the trailer is an authentic Subaru WRX STI competition car that customers can touch and sit in.
The Subaru Motorsports USA Experience Includes:
Subaru WRX STI competition car and / or Gymkhana car
40ft custom trailer with display elements inside and out
Wall mounted flat screens playing rally and rallycross videos
Parts display and Subaru Motorsports USA information 
Free Subaru Motorsports USA promo items (posters, stickers etc)
Staffed by one of our affable Subaru Motorsports USA hosts 
Select events are eligible for team driver appearances for autograph sessions / meet & greet sessions
Driver appearances are limited and subject to driver availability. Contact us for more information or to request a driver
The Subaru Motorsports Experience USA enhances events, generates leads and develops customer connections. Event types include:
Grand Openings / Grand Re-Openings
American Rally Association or Nitro Rallycross events in-market
Track Days & Autocross events
Parades and other community events
Auto shows and enthusiast meets
Customer or Military Appreciation Day
College campus events, and more 
Show Room Display
For a longer or simpler display option, one of the Subaru Motorsports USA rally or rallycross cars can be booked for one to three weeks of static display at your location or event. Perfect for situations where a more streamlined activation is desired, the racecar can be displayed indoors in a lobby or out front of a venue, serving as a buzz-generator and eye candy for an extended period of time. This is an unstaffed display. We deliver, set up and leave the car with you, then return to collect.
The Show Room Display Includes:
Subaru WRX STI competition car and / or Gymkhana car
Subaru Motorsport USA team posters, stickers, etc. for distribution 
TV playing Subaru Motorsports videos
Subaru BOXER engine display
Social promotion support from our team 
Available for for 1 – 3 week display periods
Custom Options
Custom programs are available, ranging from stand-alone, one-off events (such as at a brand's corporate headquarters) to involvement with a selection or the entire series of events.
"The Subaru Rally Car Display was a huge hit with all of our enthusiasts this past weekend. People are still calling in and emailing to let us know just how good of a time they had! Everyone was extremely impressed and had nothing but good things to say about Nick and the entire display." – Chris Parks— Annapolis Subaru
"Needless to say, our event was a huge success. A success that can only be attributed to Nick's presence. In our forty years of being a Subaru dealer I have never met a better ambassador for Subaru (and the Vermont SportsCar team). I feel very fortunate to have met him. With all of this said, if you ever have a dealer who cannot decide whether or not to use the show car for an event, have them call me. My advice will be to go for it. I know we plan to make this an annual event plus we are talking about attending a rally in the future." – Forrie Spangler — Spangler Subaru
"I have been in the Automobile business for over 15 years and have NEVER had as positive of an experience as this. As far as the effectiveness of the event from a sales perspective, we couldn't be happier. We delivered more new and pre-owned Subaru's in that weekend than we have in a very long time. I can't stress how much morale it built for our sales staff which will definitely carry over the next several months, and I am CERTAIN about that. I have personally had numerous conversations with my staff and trust me, they are FIRED UP! I enjoyed looking out among the people that visited our store, and seeing the excitement in their faces as Nick went over the cars features and the different displays provided Subaru Rally Team USA…." – Jesse Strickland — Gerald Jones Subaru
"It was the biggest car show we've had in 5 years. Bringing the Subaru Rally Team car was definitely a great idea. We are looking forward to next year's car show and hoping to have the Subaru Rally Team car on display again. Thank you for helping us make this car show totally awesome!" Dmitriy Serykh — McLaughlin Subaru
"The Subaru Rally Team display became a main attraction at the 2nd Annual Hub City Hog Fest! Nick was great in taking time with each person who approached his display. After educating them on the Rally Team, he would lead them over to the Subaru vehicles we brought from the dealership and share the similarities. We had a lot of traffic and ended up selling several Crosstreks thanks to this event. Nick was a pleasure to work with!" Leslie Bailey — Vic Bailey Subaru